----------------------
A BRIEF HISTORY OF THE LUCKEY HOSPITAL
Dr. James E. Luckey, founder of the Luckey Hospital, was born in 1865 and graduated from the American Medical College in Chicago in 1892. His medical practice was originally run from the family home, a large Victorian house no longer standing, located in front of the hospital building at the corner of US 33 and SR109.
J.E. had three sons, Hugh, Robert (Bob) and Harold. Hugh became an oil inspector, Robert followed in his father's footsteps and became a doctor and Harold an electrical engineer.
As his family grew along with his medical practice, it became obvious he needed more space, and the impetus for a hospital grew. With Harold's expertise in the technical aspects of construction, much of the actual design of the building fell upon him with imput from his father and brother Bob.
In 1929 construction began on the three-story brick hospital. The original design blueprints have never been located. It has been related that the terrazzo for the floors came from Italy. Construction continued into 1930 with the opening of parts of the building and by 1931 it was in full operation.
Upon graduation from Indiana University Medical School, Dr. Bob joined his father in practice at the hospital and after helping design the building, Harold decided to become a doctor as well and enrolled in Indiana University School of Medicine. Both the younger Dr. Luckeys received their surgical training in Vienna, Austria,
After Dr. J.E. Luckey's death in 1938, his sons and other doctors operated the hospital untill 1957 when the remaining two doctors moved to a new building in southeast Wolf Lake and closed the hospital.
The hospital building was used as a nursing home, then apartments and a private home until J.E's two great-neices, Mary Adams and Shirley Hile, purchased the building in 2000.
The Luckey Hospital Museum had humble beginnings when J.E.'s great-neices Mary and Shirley decided to open a small museum to display their private collection. Both are retired RNs and have been collecting obsolete medical equipment for years. The collection has grown and expanded to include the entire first and third floors of the former hospital.
-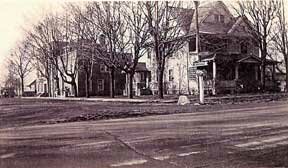 Dr. J.E. Luckey's home with hospital behind, c1935